The Complete Guide to Online Parental Controls – Guest Post
The digital world and our kids.
The digital world has unfortunately become a parent's worst nightmare. How can parents educate themselves about not only the threats of social media, but also online material that is available to our children? They can probably find it quicker and better than we can. We need to be educated, informed, and aware. It's a long post, so fasten your seat belts and take the journey to being well-informed and to helping your kids be safe.
I'm sharing this guest post with permission and to help us all learn what we should know. This guide was written for parents with little or no technical knowledge to help parents combat these threats and keep their children "Internet Safe".
This post comes from https://wizcase.com.  Wizcase is an independent review site that is reader supported. This post was updated by Julia Olech on August 14, 2020.
The Complete Guide
to Online Parental Controls
Keeping children safe in an increasingly digital world is a difficult task for any parent. Without the proper controls, kids can be exposed to a number of threats while taking part in activities online. In 2019, the FBI estimated that an average of 625,000 sexual predators are active online every single day. Equally as terrifying, identity thieves specifically target millions of children each year. However your child spends time online, it's important to set up appropriate parental restrictions to protect them. While these controls can never be 100% effective, they allow you to monitor your children's digital habits and stop cybercriminals from ever contacting them.
With an ever growing list of devices and apps children use, it can be very time-consuming to try and figure out how to secure them all. This article will provide you with the ultimate list of instructions for each device and online platform so you can shield your children from harm quickly and effectively.
Hide Inappropriate Content on Popular Streaming Services
Netflix
Netflix is one of the few streaming platforms that allows extensive restrictions to be applied to underage profiles. The first step for controlling what shows are available to your children is to create their accounts using the Netflix Kids option. This can be turned on by ticking the "Kids" option when setting up a regular account.
Netflix Kids automatically restricts inappropriate content from selected profiles and prevents children and teens from applying any changes to the settings. You also have the option of applying additional controls.
Manage the Autoplay Feature and Maturity Restrictions on Netflix Kids Profiles:
Open the Netflix app and press "Manage Accounts."
Choose the account you'd like to modify by pressing the pencil icon on its image.
Turn off the autoplay by unticking "Autoplay Next Episode in a Series on All Devices."
Kids accounts will automatically have their viewing restrictions set to "T," which stands for "Suitable for all ages." However, you may want to change the restrictions for teenagers. Pressing "Edit" will take you directly to the Netflix website.
Enter your password and press "Continue."
Use the slider to set up the highest age restriction. You can also set a list of blocked titles using the text bar underneath.
Tap "Save" to authorize all the changes.
Finally, Netflix allows you to secure certain profiles with a 4-digit PIN code. This will prevent your children from accessing accounts with high maturity ratings. However, you can only set it up through Netflix's official website.
Secure Adult Accounts with a PIN Code:
Log in to your Netflix account and scroll down to "Profile & Parental Controls."
Select which account you'd like to secure and tap the arrow next to it.
Find the "Profile Lock" option. Enter your password and press "Continue."
Tick the box next to "Require a PIN" to protect your profile with a code. Input your chosen digits and tap "Submit."
Hulu
Hulu is possibly the only platform that doesn't allow for custom-made content restrictions. Instead, you can create a separate account for your child and enable kid-friendly programming with a toggle. Keep in mind that even with this option turned on, your children will still be able to stream PG-13 and TV-14 content. If you try to bypass it and set up parental controls on your device or router, it'll completely block all shows on the platform.
Create a Child Profile on Your Hulu Account:
Sign in to your Hulu Account.
Click your profile icon in the top right corner and select "Manage Accounts" from the drop-down menu.
Tap "Add Account." Enter your child's details and turn on "Kids" to allow child-friendly programs.
Press "Create Profile" to save.
Amazon Prime Video
With Prime Video parental controls, you can set age-appropriate viewing restrictions and prevent unwanted or accidental purchases by protecting them with a PIN code. When turned on, they'll also stop the next episode from autoplaying. These restrictions are not as extensive as parental settings on Netflix, but they'll still stop your children from accessing inappropriate movies and TV shows.
You can turn on parental controls using your phone or a laptop — both options are equally as quick and simple to set up.
Create Viewing Restrictions on Amazon Prime Using a PC or Mac:
Log in to your Amazon Prime account and press your profile icon.
Select "Settings" from the drop-down menu.
Open the "Parental Controls" tab.
Create a 5-digit PIN which will be required to make any purchases and bypass restrictions. Confirm by tapping "Save."
Now, manage available viewing restrictions by using the list of parental controls.
Set Up Parental Controls on Amazon Prime With Android or iOS:
In the app, tap "My Stuff" and select the gear icon.
Go into "Parental Controls."
Before setting up any restrictions, you'll have to create a PIN code. Do this by pressing "Change Prime Video PIN" and follow the on-screen instructions.
When you're done, tap "Viewing restrictions."
Choose a desired age restriction and what devices you'd like to apply them to. Select "Save."
Disney+
Disney+ is a platform dedicated to kids and teens, so you won't need to worry about any R rated content. However, as the app also has National Geographic and Marvel shows, some titles may be less appropriate depending on your child's age. Luckily, you can block all scary and disturbing content by creating a Kids Profile. This will automatically restrict all movies and shows above a G-rating.
4 Easy Steps to Create a Kids Profile on Disney+:
Open the Disney+ app. Select "Edit Profiles" and then "Add Profile."
Choose an image for the icon and add a name. Your child may want to be involved in this process, especially if they have a favorite Disney character.
Turn on "Kids Profile" by using the toggle.
To confirm, tap "Save."
Protect Your Children From Pressure on Social Media
YouTube
YouTube provides a tremendous amount of videos for users of all ages, but places absolutely no restrictions for any viewer by default. This increases the risk of your child accidentally stumbling upon explicit, scary, or disturbing content on a daily basis. Luckily, you can turn on YouTube restricted mode on the website itself or even download YouTube Kids — a separate, child-oriented platform that holds only safe and appropriate content.
YouTube Kids comes with limited functions and a restrictive filter that blocks most inappropriate videos. You can even apply age-based restrictions. "Pre-School" works best for children younger than 4 years old, "Younger" will display videos for kids up to 8 years old, and "Older" is designed for users between 8-12 years old.
Change Age-Appropriate Settings on YouTube Kids:
Open the YouTube Kids app. You'll be prompted to sign in with your Google account.
Now, create your child's profile. Enter his or her first name, age, and month of birth.
Select which age group content you want your child to view. YouTube Kids will automatically recommend the best option based on the details you entered before.
Tap your child's profile icon. The app is now ready to use!
However, YouTube Kids isn't always perfect. It's possible for some weird and disturbing videos to slip through the filters, so don't let your child use the app on their own.
Moreover, the older your children get, the more likely they are to rebel against using a restricted kid's app. To avoid unnecessary arguments and stress, you can allow them to use the common YouTube version, but remember to turn on Restricted Mode. This option is available on both the browser and mobile version of the platform.
Turn on Restricted Mode From YouTube.com:
Log in to your child's account and select the profile icon in the top right corner.
Tap "Restricted Mode: Off" at the bottom of the drop-down menu.
A small window will pop up to explain what the setting aims to do. Turn it on by clicking the toggle.
This will activate the restrictions within that particular browser. If your child uses any other browsers, you'll need to repeat these steps for each one.
Activate Restricted Mode on the YouTube app:
Open the app and press the profile icon in the top right corner.
Tap "Settings," then "General."
Scroll down to find "Restricted Mode." Tap the option to turn it on.
Repeat the same steps for any other Android and iOS devices your child uses to watch YouTube.
TikTok
The latest addition to social media giants restricts its users from making an account unless they're 13. The app itself is rated 12+, but it often still displays fantasy violence, explicit content, crude humor, and inappropriate references. Due to its algorithm, TikTok also collects a lot of user information to tailor displayed videos on the main page to the viewer. Luckily, there are quite a few options available to protect your child's profile, but you'll have to set up your own TikTok account and link it with your kid's account to enable them.
Family Pairing allows you to control how long your children can use TikTok, block certain types of content, and turn off direct messaging. The latter is automatically turned off for any user under the age of 16.
Manage Your Child's TikTok Profile with Family Pairing:
Open TikTok and log in to either your account or your child's account.
Select the three dots in the top right corner and find "Privacy and Settings."
Choose "Digital Wellbeing" and tap "Family Pairing."
Follow the setting up steps in the app.
Once set up, press "Restricted Mode" to turn it on.
Finally, create desired time limits by tapping "Screen Time Management" and choosing from available options.
Additionally, you can set your child's account to private to prevent strangers from viewing his or her clips. Using your kid's profile, go into "Privacy and Settings," then "Privacy and Safety" and switch on "Private Account."
Instagram
With Instagram's massive user database, the platform makes your child extremely vulnerable to hateful comments, online stalkers, and identity theft. With the right protective steps and increased privacy settings, you can ensure your child won't come across harmful materials.
Increase Your Child's Security on Instagram:
On your child's account, click the hamburger icon in the top right corner. Tap "Settings."
Select "Privacy" and then "Account Privacy." Switch on "Private account" using the toggle.
Next, press "Comments." From there, you can hide offensive comments, apply a manual filter to block specific words or phrases, and limit commenting to your child's followers.
You can also create a list of specific users who can view your kid's stories. Click "Close Friends." Tap "Get Started" and follow the on screen instructions. When you're ready, press "Done."
If you notice any inappropriate behavior related to your child's account, don't hesitate to report and block the account responsible. You should also teach your children how they can report it themselves. Instagram takes privacy concerns very seriously and will resolve your issue as quickly as possible.
Snapchat
Snapchat continues to be widely popular amongst younger teenagers due to its amusing filters and ease of communication. However, certain features (like displaying users' specific location) pose a huge threat to children who use the app. Despite Snapchat featuring multiple privacy protection settings, reports of sexual predators on the platform are still a regular occurrence. Make sure to disable as many features as possible to increase your child's safety when using the app.
Apply All Protective Methods on Your Child's Snapchat Account:
Open the app. Select your child's avatar in the top left corner and tap the gear icon.
Scroll down to "Additional Services." This is the section where you'll be able to control different aspects of your child's privacy.
Press "Contact Me" and tick "My Friends."
In "View My Story," choose who can see what your kid posts online. Tap "Friends Only" or "Custom" to allow only certain account tags.
To disable the account from showing up in search results, select "See Me in Quick Add" and uncheck the option.
Go into "My Location." Then select who can view your child's location, disable location requests, or turn on Ghost Mode, which will completely hide the device's location.
Finally, scroll up to the top of "Settings" and press "Mobile Number." Deselect "Let others find me using my mobile number."
Facebook
According to its terms and conditions, Facebook doesn't allow anyone under the age of 13 to set up an account. However, online statistics show that almost 40% of Facebook users are under the age limit. If the platform's user data collection isn't enough to encourage you to add extra protection to your child's account, its regular involvement in data breaches definitely should. Applying even a few additional security settings may save your kids from becoming victims of various cyberattacks, including identity theft.
Adjust Facebook's Privacy and Security Settings on Your Child's Account:
Using your child's account, tap the small arrow in the top right corner (the hamburger icon on the mobile app) and scroll down to "Settings & Privacy."
Select "Privacy shortcuts." It's a much quicker way to apply changes than going through each individual setting.
Tap "Review a few important privacy settings." You'll be presented with different changes you can apply. Go through each card and follow the on-screen instructions.
Go back into "Privacy shortcuts" and select "Manage your location settings." Turn off Facebook's access to the device's location and location history.
Then choose "Control face recognition" and disable the platform from automatically recognizing your child in photos and videos.
Press "See more privacy settings" and, following each option, choose who can contact and view your child's profile.
Finally, disable Facebook from collecting data and personalizing ads by tapping "See your ad settings." Additionally, you can select "Review your ad preferences" and remove the data that was already collected.
Twitter
Twitter is one of the few social media platforms that offers the highest level of user protection. The settings aren't turned on by default, but are very easy to find and enable. Make sure you apply all the changes as soon as your child becomes active on the platform.
Protect Your Child From Adult Content Using Twitter's Security Settings:
Open the Twitter app and log in to your child's profile.
Click on the profile image in the top left corner to open the menu. Tap "Settings and Privacy."
Press "Privacy and safety." Most security options can be enabled and disabled by toggling them, such as Tweet protection, blocking sensitive content, and restricting live videos.
Click "Photo tagging" and turn it off.
In "Direct Messages," disable message requests and read receipts.
Tap "Discoverability and contacts" to prohibit anyone from finding your child's account by email address or phone number. You can also turn off contact syncing between Twitter and phone numbers on your kid's device.
You can create a list of blocked and muted accounts or words in "Safety" settings. Simply tap each option and enter profile names or phrases you'd like your child to avoid.
Select "Precise location," then block Twitter from accessing the device's specific location.
As a last step, click "Personalisation and data" and untick all forms of data collection and ad personalization.
Pinterest
Although it's generally considered harmless, Pinterest can still hold some dark content in its corners. Unfortunately, the platform doesn't offer any parental controls that could block inappropriate content. If your child uses Pinterest regularly, apply appropriate restrictions within your browser or device. Additionally, create your own account and regularly review what images your kids pin to their boards and ensure they don't link their profiles with other social media platforms.
Twitch
If you're looking to apply parental controls to your child's Twitch account, you're not going to find many. Despite allowing gamers and streamers as young as 13 to set up a profile, the platform doesn't actually put any protective restrictions in place. As Twitch is a live streaming platform, it makes it almost impossible to moderate and filter its content. The only protection you can apply is disabling direct messages on the website.
Luckily, many official streamers (like Ninja or DrGluon) keep their channels child-friendly and avoid explicit language and references. While they may still play games aimed at a more mature audience, you wouldn't find anything inappropriate in their chats. However, many gamers who stream Minecraft or other games popular with younger audiences may use extremely vulgar language. The best way to moderate what your child watches is to take interest in their favorite streamers and check if their channels are appropriate for his or her age.
3 Steps to Disable Direct Messaging on Twitch:
Open Twitch and click on your child's username in the top right corner. Select "Settings."
Press the "Security and Privacy" tab.
Scroll down to "Privacy" and check "Block Messages from Strangers" as well as "Block Whispers from Strangers."
Reddit
Reddit provides one of the biggest libraries on quite possibly every topic imaginable, from child-friendly forums about TV shows to extreme and explicit adult content. The latter is usually clearly labeled with Not Safe For Life (NSFL) or Not Safe For Work (NSFW). Both tags automatically hide images and videos that would make any adult terrified or disgusted. But, ideally, no underage user should be allowed on the platform without supervision at any point, just in case they come across something they should never see.
If you decide to let your child use Reddit, sign up for them with your own email address. This will allow you to regularly monitor what kind of content they view and prevent them from changing the password. Alternatively, using the website without logging in will automatically block NSFL and NSFW content so you may want to skip creating an account altogether.
Create a More Child-Friendly Reddit Experience For Your Child:
Select your child's profile and tap "User Settings."
Go into the "Profile" tab. Scroll down to "Profile Category" and disable the NSFW category as well as content visibility in general subreddits.
Now, move on to the "Settings and Privacy" tab. Untick every option possible to restrict any form of data collection and personalization. You can also add a list of user accounts to block.
In "Feed Settings," make sure the adult content is switched off, alongside the media autoplay feature. Turn on the "Safe browsing mode."
Disable direct messages by tapping the "Chat & Messaging" tab and selecting who can send your child message requests.
Most internet browsers (except Internet Explorer) offer a free extension called Reddit Enhancement Suite (RES). It's an independent, community-driven Reddit browser that provides safer browsing while using the platform. As Reddit itself won't allow you to block any subreddits, you can use RES to restrict user access to forums that display gore, sexual images, or other inappropriate content.
Unfortunately, Reddit parental controls don't exist on its iOS and Android app. While its iOS version comes with a toggle to turn off R-rated content, Android users won't be allowed to restrict anything. If your child wants to browse Reddit pages, it's safest to do so on a PC.
Enable Maximum Child Protection on Every Device
Apple Devices
iPhone, iPad, and iPod Touch
Apple gives parents full control over their children's iPhones, iPads, and iPods. Screen Time Content & Privacy Restrictions can block certain apps and features on Apple devices. You'll also find sections to limit more specific settings, like Siri or online purchases. Managing your child's safety on their Apple devices is also very simple and can be done in 10 quick steps.
Set Screen Time & Privacy Restrictions to Keep Your Kid Safe on Apple Devices:
Go into "Settings" on your child's device.
Tap "Screen Time" and select "This Is My Child's [device]." Follow the prompts until you have to set up a passcode.
Once set up, go into "Content & Privacy Restrictions" and turn it on. Now you'll be able to begin applying restrictions.
Press "iTunes & App Store Purchases." Then you can disable in-app purchases and more.
Now go into "Allowed Apps." Toggle on or off the apps you'd like to restrict, such as Camera, Safari, and many others.
Tap "Content Restrictions" and select your desired settings for installed apps under "Allowed Store Content." You'll be able to restrict content like movies or music based on the maturity rating.
In "Web Content," choose between "Unrestricted Access," "Limit Adult Content," and "Allowed Websites Only." You can then add a list of specific sites you want to allow or block.
Find "Siri & Search" and restrict the digital assistant from searching the web or using explicit language.
Go into "Game Center" to limit your child's ability to join multiplayer games, add friends, or record the device's screen.
Finally, tap "Privacy" and toggle on or off the available features. Apple allows you to restrict location services, Bluetooth sharing, speech services, and many more.
MacOS
Setting up parental controls on MacOS varies depending on what MacOS version your child is using.
MacOS Catalina
Catalina is the latest MacOS system released in 2018. Unlike its predecessors, it doesn't come with built-in parental controls. Instead, Apple swapped it for Screen Time settings to match the controls from iPhones, iPads, and iPods. You'll have to enable it directly on your child's computer — the process is very quick and simple.
Use Screen Time to Secure Your Child's Device:
Press the Apple icon and select "System Preferences."
Tap "Screen Time." The device will automatically display more information about what the feature does. When you're ready, click "Continue."
Select "Options" and enable Screen Time by pressing "Turn On."
Now, you can choose specific settings. Choose "Include Website Data" if you'd like Screen Time to send you reports with specific sites your child visited. You can also set up a passcode to use for any security changes in the future.
You'll have an option to set up a "Downtime Schedule" for when you don't want your child to use the device. The feature allows you to set the same downtime schedule for each day of the week or create a custom routine.
Next, tap "App Limits" and turn them on. To create a new app limit click "+." You'll be presented with a set of checkboxes for which apps and sites you can limit. Confirm by pressing "Done."
Go into "Always Allowed" where you can set which apps your child can always access.
Finally, restrict certain content like the Apple Store, apps, and other features in "Content & Privacy."
Insider Tip: You can use your own device to remotely monitor your child's activity on MacOS using the Family Sharing app. Without it, you'll have to log in to your child's Mac to check what they've been using it for.
MacOS Mojave and MacOS High Sierra
Older versions of MacOS are even easier to protect as they have a whole menu dedicated to Parental Controls. This allows you to easily manage each aspect of what your child can access from one setting option. Even if you don't apply any restrictions manually, each "child's account" on Mac has certain controls applied by default. For even safer use of the device, consider adding extra parental controls.
Manage Parental Controls on MacOS Mojave and MacOS High Sierra:
Go into "System Preferences" and find the "Parental Controls" icon.
Select your child's account and click the lock icon to allow changes.
The device will prompt you to enter your admin details.
Once logged in, you can scroll through the list of available restrictions and tailor them to your needs. The system gives you the option to restrict certain apps, stop specific websites from opening, turn off the iTunes Store, set specific time limits, disable online data collection, and stop Siri and Dictation.
Android Devices
Unlike Apple devices, most Android phones and tablets don't have specific settings for parental controls. While you can manage certain options in the Google Play Store to disable specific apps and prevent accidental purchases, you won't be able to turn on phone-wide restrictions.
Manage Online Restrictions in the Google Play Store:
Open the Play Store app and sign in (if you're not logged in already).
Tap the hamburger icon in the top left corner, then press "Settings."
Scroll down to find "Parental Controls." Turn it on and create a PIN.
Now, you can control different sections of the Play Store. Set age restrictions for "Apps & games," "Films," "TV," "Books," and "Music" by tapping on each option.
Go back into Play Store Settings and find "Require authentication for purchases." Select "For all purchases through Google Play on this device" to prevent your child from buying anything from the app store.
To monitor your child's phone habits, you can download the Family Link app on their device. This app helps you set ground rules for phone usage, such as managing which apps are allowed and setting time restrictions so you can choose when your child can use their phone and when they can't. You can also keep track of which apps your child is using and how much time they are spending on each one.
Windows 10, 8 and 8.1, and 7
Similar to MacOS, switching on parental controls on your Windows device differs depending on its operating system. Before you begin enabling any restrictions, make sure your child has Microsoft accounts linked with your own. This will ensure their maximum online safety and it won't limit your own digital experience.
Windows 10
If your child has their own Microsoft account, it's highly possible certain parental controls are already applied. However, it's still a good practice to review the settings in case they aren't fully age-appropriate.
Personalize Parental Controls on Windows 10:
Press the Windows button in the bottom left corner. Open "Settings" and tap "Accounts."
Find "Family & other users." Select your child's account and go into "Manage Family Settings Online." Pressing it will open Microsoft Family Parental Control in your designated browser. You may need to log in to your account for this.
Underneath your child's name, tap "Activity" and turn on "Activity reporting." This will prompt Microsoft to send you emails with details about your children's digital habits.
Go into "Screen Time" to alter the default time settings and create appropriate schedules for every day of the week.
Press "More Options." Click "Content restrictions" at the top of the drop-down menu. Enable "Block inappropriate apps and games" and "Block inappropriate websites," then select the desired age-rating. Additionally, you can add specific names and addresses of programs and sites you want to restrict.
Once again, select "More Options" and tap "Spending." Set a limit for making any purchases in the Microsoft Store or turn this feature off completely.
Windows 8 and 8.1
Create a Kid-Friendly Digital Environment on Windows 8 and 8.1:
Launch the "Control Panel." Press "User Accounts and Family Safety," then "Set Up Parental Controls for Any User."
Choose a child account you want to customize.
Press "Parental Controls" and "Enforce Current Settings."
Find "Activity Reporting" to enable collecting information about the user's activity.
In "Web Filtering," create a list of blocked online sites and restrict any downloads.
To select what days and times your children can use the computer, tap "Time Limits" and change the default settings.
Create an age restriction for games and apps within "Windows Store and Game Restrictions," as well as "App Restrictions."
Windows 7
Windows 7 offers the least amount of control regarding what your child can and cannot access on the system. However, depending on the age of your child, these controls should be enough to ensure safe usage.
Access Parental Controls on Windows 7:
Press the Start button and open "Control Panel."
Choose "User Accounts & Family Safety," then tap "Set Up Parental Controls for Any User."
Select a child account you want to protect.
Under "Parental Controls," choose "On, Enforce Current Settings."
Now, select each of the 3 categories underneath and apply custom settings. By choosing "Time Limits," you can define what hours the Windows device can be used. In "Games," ban all games or select an ideal age-rating for your children. You can block a particular program under "Allow and Block Specific Programs."
Finalize your choices by pressing "OK."
Chromebook
Any child who wants to use a Chromebook or the Google Play Store needs their own Google account. Google's underage profiles already come with a set of pre-programmed restrictions, such as blocking the use of the incognito mode in Chrome or the option to block explicit online content. However, in order to control specific Chromebook features, you need to download and set up Google's Family Link app. The program is very simple to use, but to start you need to log in to both your and your child's Google account.
Writer's Advice: Family Link works only on Chromebooks running Chrome OS version 71 or higher. Make sure your operating system is up to date before setting up family restrictions.
Block Unwanted Content on Chromebook:
Open the Family Link app and select your kid's account.
Tap "Settings," then go into "Manage Settings" and "Filters on Google Chrome."
Select a desired filter: "Allow all sites," "Try to block mature sites," or "Only allow certain sites."
If you want to create a list of specific websites your child can and cannot access, press "Manage sites."
Go into "Approved" or "Blocked" sites and tap "Create." Type in the addresses of the websites and domains.
In "Filters on Google Chrome," go into "Chrome Dashboard."
Turn off "Permissions for sites and apps." This will restrict your child from giving sites access to the device's camera, location, and notifications.
Before you finish, go into "Parent Access" and create a password to lock all changes. Finalize your settings by clicking "Next."
Amazon Fire Tablet
Amazon Fire Tablet gives you a lot of control over your child's digital habits with a set of specific settings. Additionally, you'll be able to monitor your child's activity on the tablet through your own device using the Amazon Parent Dashboard app. To set everything up, you'll need to create your child's account on the tablet before they begin to use it.
Simple Guide to Setting Up a Child's Account on Amazon Fire:
Open "Settings" and tap "Profiles & Family Library."
Press "Add a Child Profile." The device will prompt you to set up a PIN password to prevent your children from accessing any other profile except for their own.
Enter your child's name, gender, and date of birth. Then, select an age-appropriate theme — the "Blue Sky Theme" works best for children under 9, while "Midnight Black Theme" is designed for tweens aged 9-12.
To confirm, press "Add Profile."
Once the child's account is created, you can apply more restrictions like screen time limits and age-specific filters.
Restrict Account Activity by Managing Your Child's Profile:
Go into "Profiles & Family Library" found in "Settings." Select a profile you'd like to manage.
Tap "Set Daily Goals & Time." This will allow you to stop your child from using the device at night and set total screen time limits for the day. You can even turn on Educational Goals that your child has to reach (like reading a book for 30 minutes) before they can play games.
Next, press "Age Filters" and select a required age range with a slide bar. To add or block specific content, select "Add Content"/"Remove Content." Attach websites and videos accordingly.
Toggle off "Web Settings," if you don't want your child to access the web browser.
Finally, turn off "Enable Camera & Photo Gallery."
That's not all — Amazon added a separate "Parental Controls" feature to offer even more in-depth control over any kid's account.
Enable Additional Parental Controls in 5 Steps:
Tap "Settings" and press "Parental Controls."
Turn it on by clicking the toggle on the side. You'll be prompted to set up a password of your choice. This will automatically restrict web browsers, online purchases, and certain types of content, such as the built-in Alexa app.
Select "Amazon content and apps" to apply further limits. You'll be able to block the camera, messaging, Amazon Video, maps, Audible, and more.
You can also toggle on "Set Restricted Access." Set a specific schedule to prevent your child from accessing the tablet when he or she isn't allowed.
Finally, turn on "Monitor This Profile" if you'd like to regularly review the account activity.
The FreeTime app mentioned above can also be used to control your child's account on Amazon Fire Tablet. Also known as Fire for Kids, this option can be applied automatically when you create your child's Fire account. Keep in mind that opting in will sign you up to the subscription service straight away. The first month is offered as a free trial, but remember to opt out if you don't want to pay for it. If you purchased the Kids Edition of Amazon Fire Tablet, you'll receive FreeTime for free for 12 months.
Home Assistants: Google Home, Google Nest, Amazon Echo, and HomePod
Be careful! Enabling parental controls on home assistants won't stop them from collecting your child's data, such as his or her name, interests, birth date, and voice recordings. This cannot be turned off at any point.
Google Home and Google Nest
Google home devices allow you to control explicit content and block it from playing on YouTube apps, Google Play Music, and other radio apps you have installed. The speakers come with a built-in Digital Wellbeing setting that filters unwanted content when turned on. These restrictions can be applied to all speakers connected to your account or selected Supervised Accounts and guests.
Set Up Digital Protection on Google Home and Google Nest:
Tap the Google Home app on your smartphone.
Go into "Settings" and press "Digital Wellbeing."
Select "Set up" and then "Next" to begin adjusting filters.
Pick whether the restrictions should apply to "Everyone" or only "Supervised Account and guests." Then decide what devices you'd like to control and press "Next."
Apply filters to "Videos" and "Music" using the available options. You can also apply "Additional controls" to turn off calls and messages and limit Assistant's functions and answers. When you're ready, press "Next."
Finally, set up "Downtime" to decide when your home devices can be used. You can create a custom schedule or choose one of the preexisting ones.
To confirm your choices, tap "Done."
Amazon Echo
All Echo devices come with a free built-in parental control setting you can enable anytime. In fact, there are two ways you can restrict inappropriate content on your Alexa device. One allows you to simply turn on and off certain features within the Amazon Echo app. The other gives you more control with the use of the FreeTime app. FreeTime is a subscription-based service that charges a monthly fee of $2.99 for keeping your children safe. You can get it for free for a whole year when you purchase Amazon Echo Dot's Kids Edition. Unfortunately, Alexa's FreeTime (and Amazon Echo Kids Edition) is only available in the US.
Without the FreeTime subscription, you'll have to enable parental controls by turning on specific settings manually, such as Kid Skills and Explicit Filters.
Easily Enable Restrictions on Amazon Echo without a FreeTime Subscription:
Tap the hamburger icon in the top left corner of your Alexa app. Tap "Settings."
Open "Kid Skills" found on the displayed list. By default, this option is disabled. Turn it on by pressing the toggle next to it.
Next, go back to "Settings" and press "Music." From there, you can turn on the "Explicit filter." Enabling this option will automatically stop TuneIn from working as it's impossible to filter explicit content on separate radio stations.
Finally, go into "Alexa Account" and "Voice Purchasing." You'll be able to disable the voice purchases altogether or set up a 4-digit voice code that Alexa will ask for before placing any orders.
Turn On Parental Controls on Amazon Echo Using FreeTime:
Open the Alexa app on your phone or tablet. Tap the hamburger icon in the corner.
Press "Settings" and then "Device Settings."
Select which device you want to restrict, then scroll down to press "FreeTime." Turn it on with a toggle.
Go into "Setup Amazon FreeTime." If you already have it set up on other devices, such as Amazon Fire tablet, your child's name will pop up. If not, choose "Add child."
Enter your child's name, gender, birthday, and add a profile icon. Under "Who will use FreeTime," press your child's account and select "Continue."
You'll have to verify your email address and accept the privacy policy. After that, everything should be set up.
To manage your child's profile settings, go back to "Settings" and select "FreeTime."
Select your child's account. You'll be able to set time limits and restrict content like audiobooks, Alexa skills, and apps.
HomePod
The HomePod is designed to compete with Amazon's Echo and Google Home. Unfortunately, it's a lot less secure than its competitors as it doesn't really allow for many child-friendly changes to be applied. All you can do is decide whether or not Apple Music can play explicit content and disable Siri requests. You cannot set up automatic child voice recognition or even turn off online purchases.
How to Make Your HomePod More Child-Friendly:
If you're using an iOS device, press and hold "HomePod" in the "Home" app to edit it. If you're changing settings on a Mac, double-click the "HomePod" icon on your desktop.
Go into "Settings."
Sign in to Apple Music using your Apple ID. Turn off "Allow Explicit Content" to disable any inappropriate songs from autoplaying.
Scroll down to Siri settings and turn off personal requests using a toggle.
Safeguard Young Players on All Gaming Consoles
PlayStation
PlayStation 3
Parental restrictions on PlayStation 3 aren't as extensive as on Sony's later console. You won't be able to create time or spending limits, or monitor your child's gaming activity from your own device. However, you can choose age-appropriate game restrictions and disable internet browsing.
How to Switch on Parental Controls on PlayStation 3:
Turn on your gaming console and select "Settings."
Scroll down to find "Security Settings," then tap "Parental Control."
When prompted, enter your passcode or "0000" as the default code if you haven't already set one up.
Now, choose the highest maturity rating for games your child can play.
Go back to "Security Settings." Select "Internet Browser Start Control" and set it to "On."
To restrict the access to DVDs or Blue Ray, go into "Blu-ray/DVD Parental Control." Choose your desired restriction level — the lower the number, the higher the controls.
Useful Hint: Sony recommends setting a system restriction passcode after you turn parental controls on. It'll prevent anyone from changing the settings without your knowledge.
PlayStation 4
PlayStation 4 (as well as PlayStation Pro and PlayStation Slim) come with Sony's latest parental control features. In order to enable them, you'll have to create a Family account and assign yourself as Family Manager. Doing so will allow you to make sub-accounts for all your children. This system makes setting up the restrictions much faster as you can apply them to all sub-accounts at once.
Enable Parental Controls and Family Management on PlayStation 4:
Switch on your console. In the top menu bar, select "Settings" and choose "Parental Controls/Family Management."
Tap "PS4 System Restrictions." You'll have to enter a passcode — if you haven't set it up before, enter "0000."
Decide which options you'd like to limit or disable, such as VR or Blu-ray access. You can also set an age restriction on what games your child can access.
Next, tap "Family Management." You'll be prompted to enter your login details before you can continue.
The console will display more information about the selected feature. Press "Set Up Now."
Now, link all available accounts in one family. This will enable you to remotely control when the console has to be turned off, set time and spending limits, and see what games your child turns on.
Xbox
Just like any other Microsoft device, both Xbox One and Xbox 360 come with a set of strict parental controls. These built-in family settings allow all parents to set spending bans, control how much time their children spend playing games, and restrict social interaction. To alter any settings though, you and each of your children will need to use separate Microsoft accounts to log in to the console.
Xbox One
Setting up parental restrictions on Xbox One will override any settings on all apps installed on it, meaning that you won't have to place additional restrictions on Netflix or Amazon Prime Video.
Restrict Content using Parental Controls on Xbox One:
Open "Settings" from the Xbox dashboard. Scroll right to "Family," then select the child profile you want to modify.
Go to the "Privacy and Online Safety" menu.
Choose "Child defaults" to restrict all adult content, or "Teen defaults" for moderate restrictions. You can also select "Custom" to choose what restrictions to apply.
When you're ready, select "Use, but customize." Choose from a number of default privacy settings and change them according to your needs.
Xbox 360
Create Content Restrictions on Your Child's Xbox 360:
Go into "Settings" in the top right corner and select "Family."
Tap "On" to set a security password and enter a 4-digit passcode.
Choose "Family Timer" and decide if you want to set a daily or weekly limit. Press "Continue," then "Save and Exit."
Within the "Family" menu, tap "Ratings and Content." Restrict game access based on maturity ratings. Confirm with "Save and Exit."
From the "Settings" menu, choose a child account you'd like to manage. Go to "Online Safety," then press "Change Settings."
Choose between "Child" and "Teen" restrictions or select "Custom" to manually set desired limits. Press B on your controller or "Save and Exit."
To make it even easier, Microsoft is releasing its own free mobile app called Xbox Family Settings. Using it will allow all parents to make real-time changes to family settings on every child account from the comfort of their own mobile devices. The app is still in development, but you can test its Early Access version by downloading it from the Play Store or Apple Store.
Nintendo Switch
Even though Nintendo Switch is considered one of the safest gaming consoles, any online game your child plays poses various risks. By enabling parental controls, you can make sure your little ones don't accidentally play an M-rated game or make any purchases without your knowledge. The console's creators installed pre-made control levels to make the process even easier for busy and less tech-savvy parents.
Simple Guide on How to Turn on Parental Controls on Nintendo Switch:
On the device's home screen, select "System Settings."
Tap "Parental Settings" and find "Parental Control Settings."
Select "Use This Console" to change the settings directly through the Switch you're using.
Press "Restriction Level." You'll have a choice between applying pre-made settings for "Child," "Pre-Teen," or "Teen," or applying "Custom Settings" where you can choose exactly what restrictions you'd like to apply.
Don't worry if you're not entirely sure how to use your child's Switch — you can apply parental controls from your own smartphone! However, before setting any restrictions, you'll need to register your phone on the Switch using the Nintendo Switch Parental Controls app.
Apply Parental Controls on Nintendo Switch Using Your Phone:
Open "System Settings" from the console's home screen.
Select "Parental Settings," then press "Parental Control Settings."
When prompted how you'd like to set up your settings, choose "Use your Smart Device."
The console will ask you to download the Parental Controls app. If you already have it, press "Yes."
Enter the registration code displayed on your smartphone and tap "Register."
Now you can continue using your phone. Within the Switch app, select "Set Parental Controls."
The app will recommend setting a daily limit of up to 6 hours. When you're ready, press "Next."
Choose a pre-made restriction setting by tapping on the "Child," "Pre-teen," or "Teen" option. Alternatively, press "Custom Settings" and create what limit you'd like to implement. Click "Next" to save.
Finally, decide if you'd like to receive push notifications on your phone about your child's game activity every month by selecting "Allow."
Steam
If your child prefers computer gaming to consoles, then Steam is likely to be their go-to platform. It holds an impressively large cloud-based library of games — sadly, not all of them are age-appropriate.
To make sure your child uses the platform safely, use Steam's Family View controls. It'll restrict its content and display only family-friendly titles while your child is logged in. The feature can be turned on and off with just one click of a button once it's set up. This won't limit your own gaming experience if you share your account with kids.
Make a Steam Account More Child-Appropriate Using Family View:
Open Steam and log in with the account your child will use.
Tap the profile icon in the top right corner and select "Account details."
Scroll down to "Family Settings," then choose "Manage Family View."
To set it up, restrict what games can be purchased from the Store and limit online content and features. Click "Next" when you're ready.
Provide a recovery email address you'd like to use should you ever forget your login details.
Now, enter your chosen PIN code. Continue by tapping "Next."
Steam will send a secret code to the email address provided in a previous step. Enter the code to complete the process.
Origins/EA
Origins automatically applies restrictions and parental controls for any user under 13. This means that your child won't have access to any of the platform's online features, such as multiplayer games or the Origins Store. Child accounts also won't show up in the user search bar, removing any possibility for social interaction through the platform.
To create a child account, you'll need to sign up yourself first. Do so by navigating to the Origins website and clicking "Register." With the account created, download the Origins app on your computer or laptop and open it. This will prompt the account setup page to show up.
Create a Child Account on Origins:
Tap "Create an Account."
Select your country/region and your child's date of birth. Origins will automatically recognize and create a child's account based on the chosen year of birth.
Check both "Privacy & Cookie Policy" and "User Agreement," then press "Next."
Type in the email address you used to create your own account. Enter and confirm your password.
Create a public ID for your child. You may want to involve him or her in this process, but avoid using any real names.
Press "Create an account."
Origins will send you a verification email — click on the attached link to verify your identity.
By default, your child's account will use the password you created for your own profile. You can change that by selecting "Forgot your password?" in the login window and resetting it with a unique password.
Apply Child-Friendly Controls on Smart TVs
Roku TV
Roku TV doesn't allow for many parental controls to be applied and those that do exist will only restrict Roku Channels and Roku TV features. Enabling them on the TV box itself won't apply them within the third-party apps (like Netflix or YouTube), so you'll need to turn those on manually.
Prevent Your Children From Viewing Inappropriate Content on Roku TV:
Using a laptop or a phone, go to roku.com and log in to your account.
Tap "My Accounts," and look for "Pin Preference." Then click "Update."
Enter a chosen PIN.
Choose the age restrictions you'd like to put in place. You can choose between "Off," "Little Kids," "Young Kids," and "Teens."
Now, turn on your Roku TV box. Using the remote, press the home button.
Select "Settings" and go to "TV tuner."
Turn on "Parental Controls" and set an age restriction on available cable channels. You can also block certain content. Parental controls will automatically disable Movie Store and TV Store and won't display either on the home page.
Apple TV
As Apple offers a multitude of features on its TV box, it also allows you to control every feature available, including online purchases, maturity rating, Siri, and screen recording.
Keep in mind that changing these settings won't have an impact on restrictions within third-party apps, such as Netflix, Hulu, or YouTube. You'll have to manually block their content using in-app settings.
Modify Restrictions Available on Apple TV:
Switch on your Apple TV select "Settings."
Go into "General" and find "Restrictions."
Tap "Restrictions" and enter or set up a PIN passcode. This will enable you to make custom changes to all available control options.
Go through the list of possible restrictions and turn them on.
Fire TV
Similar to other Smart TVs, Fire restrictions will only apply to Prime Video viewing options. However, if you don't want your children to access third-party apps, you can secure them with PIN protection. Even if your little ones try to open an app they're not supposed to without supervision, it won't start unless they enter the correct combination.
Control What Your Children Can Do on Fire TV:
Using your Fire TV remote, select "Settings."
Click "Preferences" and go to "Parental Controls."
Press "Parental Controls" again. You'll be asked to enter or set up a 5-digit PIN.
Turn on PIN protection on purchases, app launches, and Prime Photos.
Tap "Viewing Restrictions" and select from maturity ratings "General," "Family," "Teen," and "Mature."
Open the Amazon Music app using your Fire TV remote. Select your profile in the top right.
Go into "Preferences."
Select the box next to "Block explicit songs" to disable inappropriate music playback.
Samsung TV
Samsung TV's parental controls are disappointingly limited. To stop your child from accessing mature shows on any apps installed on your smart TV, you'll need to lock each app separately. This will prevent kids from opening an app, but they'll have full control over what they watch unless you apply parental controls within the streaming apps themselves.
Turn on Parental Protection on Samsung TV:
Click the home button on your smart TV remote.
Select "Settings" in the bottom left corner.
Press "general" and go to "System Manager."
Tap "Change PIN" and set up a protection code you'll use later to restrict certain features.
Using the menu on the left, go into "Broadcasting." Block programs based on their rating level and age restrictions.
Press the home button on your remote again and select "Apps."
Find "Settings" in the top right corner. All installed apps will be displayed on your screen. Hover over the ones you'd like to lock and choose "Lock/Unlock."
Enter the PIN you created before. The selected app will display a small lock icon in its top right corner. This means you'll need to enter the security code to access it.
Configure Parental Controls on Internet Browsers
Firefox and Opera
Firefox and Opera are the only internet browsers that don't have any built-in parental restrictions. To stop your child from accessing inappropriate content, you'll need to apply external parental controls by downloading a third-party app (also known as an extension). Some of the most popular extensions include FoxFilter, Family Friendly Filter (on Firefox) and Disconnect (on Opera).
Alternatively, apply parental restrictions on the device itself. This will automatically apply content protection on any internet browser installed.
Google Chrome
Chrome online protection can be enabled directly within the browser and using the Family Link app. As the browser and the app offer different aspects of protection, it's best to turn parental controls on for both options. Remember to log in to your child's Google account so you can apply the changes to their browsing rather than your own.
Enable Google Chrome Safety Features:
Open the browser and go into "Settings."
Select "Passwords" in "You and Your Google" tab.
Turn off "Offer to save passwords" and the "Autofill" option.
Go back and scroll down to find "Safe browsing." Tap "Enhanced protection" to enable Chrome to recognize and prevent any online dangers such as malicious downloads and password detection.
Creating a child account within the Family Link app will by default disable the use of the incognito browser mode and access to the Google Play or Chrome Store. Additional protection needs to be turned on manually.
Apply Child Protection on Google Chrome Through the Family Link App:
Open the Family Link app and select your child's Google account.
Tap on "Settings," then "Manage Settings," and go into "Filters on Google Chrome."
From there, you can select what sites can be opened in Chrome.
Then, go into "Manage sites" to manually block or whitelist certain websites.
To alter site settings and permissions, tap "Chrome Dashboard." Then, turn on or off permissions for data collection.
Internet Explorer
Every Windows laptop (apart from the latest Windows 10 devices) has this browser already pre-installed so it's likely a go-to browser for your child. Luckily, it also comes with a set of built-in security features that are very easy to switch on.
Disable Inappropriate Content on Internet Explorer:
Open the browser on your child's computer.
Press the gear icon in the top right corner and select "Internet options."
Tap the "Content" tab. Tick enable under "Content Advisor."
Use the slider to choose the level you deem appropriate for your child.
Finish by tapping "Save."
Microsoft Edge
Microsoft Edge is the latest internet browser from Microsoft, replacing Internet Explorer as the company's main default browser. Microsoft Edge comes pre-installed on all Windows 10 devices and is a completely separate app. Unfortunately, Microsoft hasn't yet added any parental restrictions directly within the browser. If Edge is your child's default browser, apply all possible restrictions on their device instead.
Safari
Safari automatically comes with certain built-in restrictions you can turn on for your child. These can be applied to any version of the browser — whether your child uses an iPhone, iPad, or Mac. You can even completely disable Safari and stop your children from browsing the internet.
Enable Safari Browsing Restrictions Using iPhones and iPad:
Open "Settings" and tap "Screen Time."
Press "Content and Privacy Restrictions," then toggle it on.
If you want to disable Safari completely, click "Allowed Apps" and turn Safari off.
Go into "Content Restrictions" and select "Web Content." Choose the best options that apply to your needs — you can limit only adult sites or create a custom list of permitted websites.
Follow These Steps to Set Up Parental Controls on Safari:
Go to "System Preferences" and then "Parental Controls."
Select the lock icon and enter your Apple ID password.
Choose the underage user account you want to manage.
Press "Enable Parental Controls" and select "Web."
Select websites from the options available depending on how which sites you want your child to have access to.
To confirm, press the lock icon again.
Why You Should Consider Applying Parental Controls on All Platforms and Devices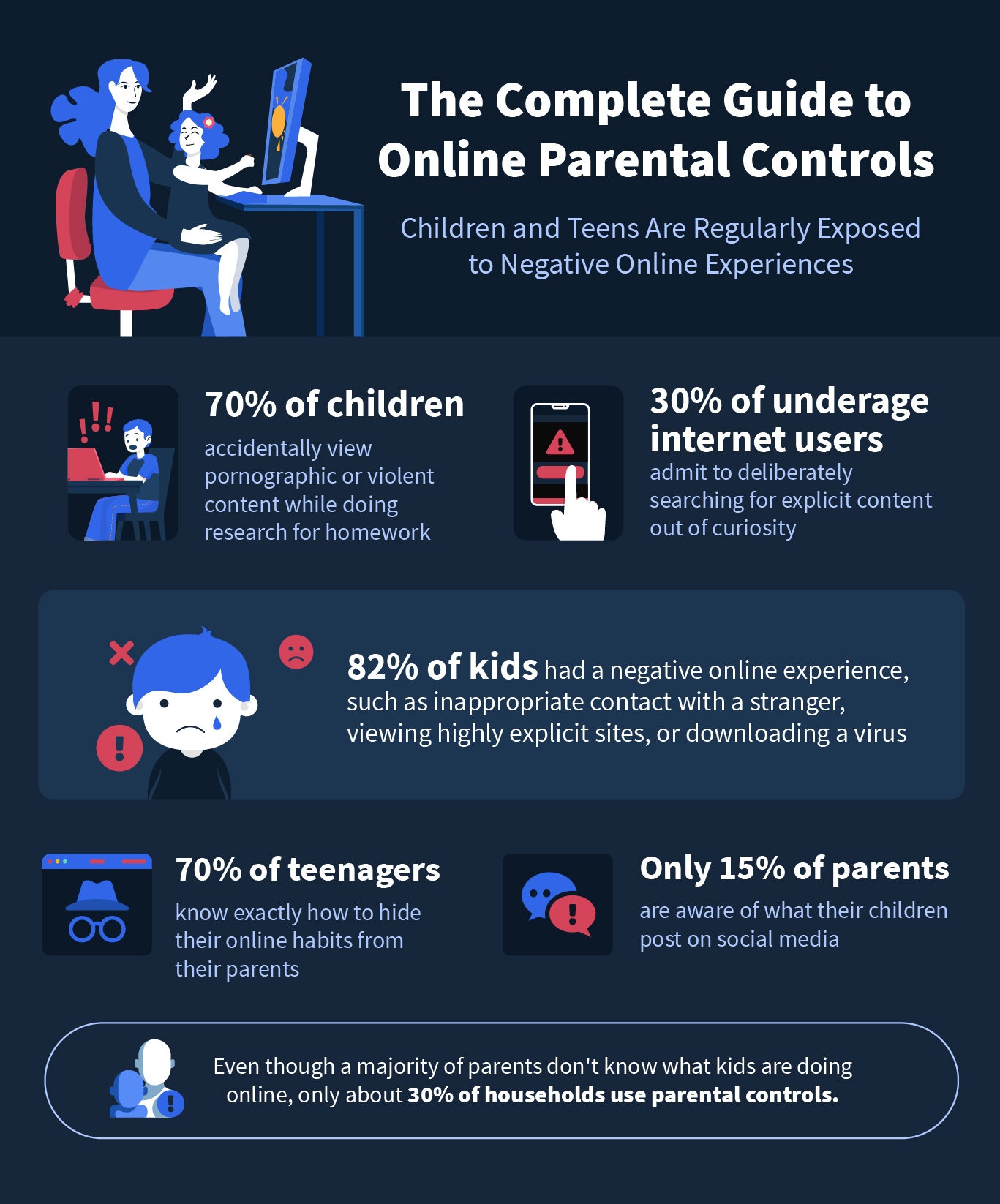 The digital world offers just as many dangers as benefits. According to a 2017 study by the UK Council for Child Internet Safety, as many as 70% of children accidentally view pornographic or violent content while researching ideas for homework. Gruesome images and videos, explicit content, and downright terrifying sites are only some of the threats waiting for underage browsers.
While you may think the household rules will protect them, children as young as 6 have proven to intentionally break the rules. According to a 2018 research paper from SSRN Electronic Journal 30% of children deliberately look for explicit content out of curiosity. Out of the children who browsed freely online, 82% admitted to having a negative experience, such as inappropriate contact with a stranger, viewing highly explicit content, or downloading a virus. While you may think your kids are responsible enough to be independent, it's clear that it's impossible to prevent them from inappropriate browsing without appropriate protection.
Teens are even more likely to break the family rules about internet use. A study carried out by Ofcom states that many teenagers are fully aware their parents wouldn't approve of the content they browse online. Even if you think you can trust your teen, 70% know exactly how to hide their online habits from snooping parents, making it impossible for you to monitor it. Therefore, it's not surprising that only 15% of parents actually know what their adolescent children post on social media. However, despite not knowing what their kids are up to online, only around 30% of households reported having parental controls set.
Applying even the most basic parental controls is essential for protecting your children from harm, whether intentional or not.
The Most Common Features of Parental Restrictions (And Why You Should Implement Them All)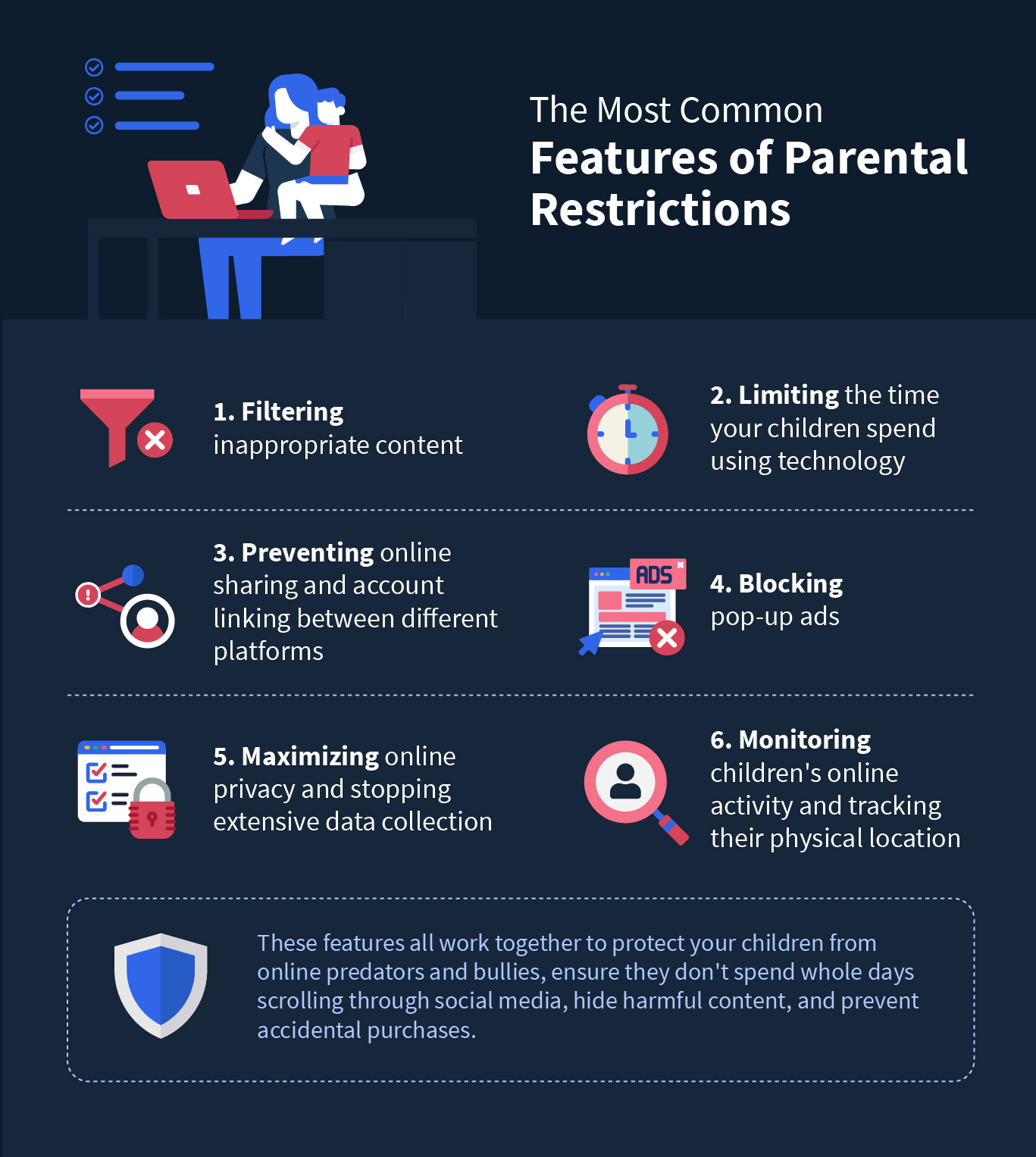 Nowadays, almost all apps and devices come with built-in parental controls. Depending on the platform and device, the options for restrictions often include:
Filtering of inappropriate search engine results, explicit or violent images and videos, and vulgar songs
Placing time limits for each day of the week
Disabling various online sharing capabilities and account links between different platforms
Blocking any pop-ups and clickable ads
Enhancing online privacy and preventing excessive data collection
Tracking your children's physical location from your own devices and monitoring their online activity through regular email reports
Each feature can protect young online users from different types of harm. Filtering content and disabling online sharing protects your children from online sexual predators and bullies as well as content that isn't appropriate for their age. Applying time restrictions ensures teens don't spend hours scrolling through social media instead of prioritizing their homework and other responsibilities. Certain controls will also allow you to prevent accidental online purchases and block access to chat rooms. Finally, you can choose from various tracking settings to know exactly where your children are — as long as they have their phone on them.
Are Parental Controls Actually Effective?
Despite their advantages and protective features, parental controls are never 100% effective. Their capabilities are remarkable, but sometimes inappropriate content is created specifically to bypass all online restrictions. This is particularly insidious on YouTube where creators can use certain child-friendly tags under incredibly frightening or explicit videos. The latest such incidents include the Momo Challenge that encouraged children to harm themselves, or fake Peppa Pig episodes which display graphic and explicit scenes.
Experts argue that although the majority of parental controls are able to enforce restrictions and prevent certain behaviors, they don't create positive changes your child can learn from. That's because it can be difficult to find a balance between what's right and wrong when applying controls. Overprotection may cause more long-term harm to your children than most dangerous content on the internet. In many cases, it could even impact their decision-making skills or encourage them to rebel against existing rules.
Even though parental controls aren't perfect, you shouldn't disregard the importance of applying them to protect your kids online. A total lack of boundaries can put children in direct danger of radicalization or sextortion. Combined with effective parenting and open conversations, digital restrictions are an extremely powerful tool that can shield your children online.
Expert-Approved Guide to Applying Digital Restrictions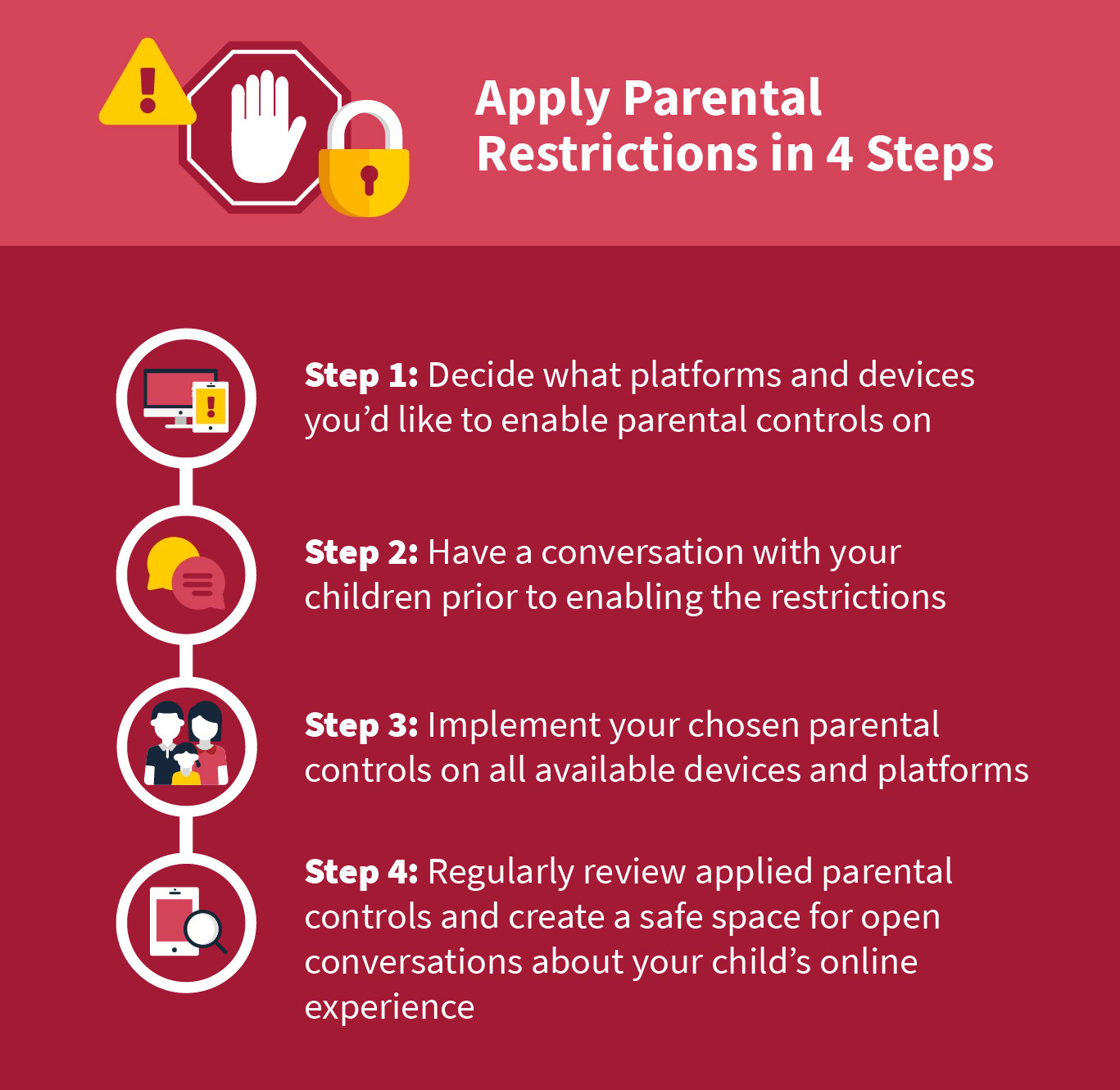 It can be tricky to enforce parental controls, especially if you didn't implement them as soon as your child began using online platforms. That's because, as children get older, they tend to rebel against any restrictions that inhibit their freedom. Experts advise following these 4 easy steps to apply parenting controls easily and effectively.
Step 1: Decide Which Platforms and Devices to Secure
Write down a list with your choices as well as short clarifications of why applying restrictions will benefit your young family members. Depending on their age, your children may try to talk you out of applying parental controls. Creating this list will help you to explain your reasoning to them a lot better.
Step 2: Have a Conversation With Your Child
Explain why parental controls are important and be open about the dangers that could be lurking online. Even if your kids are too young to fully understand what's going on, they should know these restrictions are there to protect them from extremely harmful content. It's likely that your children will want to voice their opinions — if possible, see if you can reach a compromise. This will show your kids that they're important in the decision-making process and that their point of view is valued.
Step 3: Implement Your Chosen Parental Controls
You can apply as many or as few as you'd like, depending on what you and your children agreed on. As teenagers are more likely to disobey the rules as they grow up, consider enabling regular monitoring settings to know if they're following your guidelines.
Step 4: Regularly Review the Applied Parental Controls
Research shows that children who are involved in discussing and planning house rules are less likely to rebel against them in the future. That's why it could be highly beneficial for you and your child to schedule regular talks about parental controls and why they have to be implemented. Creating this safe space for open conversations with your child will also allow them to share details about their online experiences.
Tips for Safe Internet Browsing for Each Developmental Stage
Depending on your child's age, there are different precautions you can take to create a safe online space for your child.
First Digital Steps: 2-4 Years Old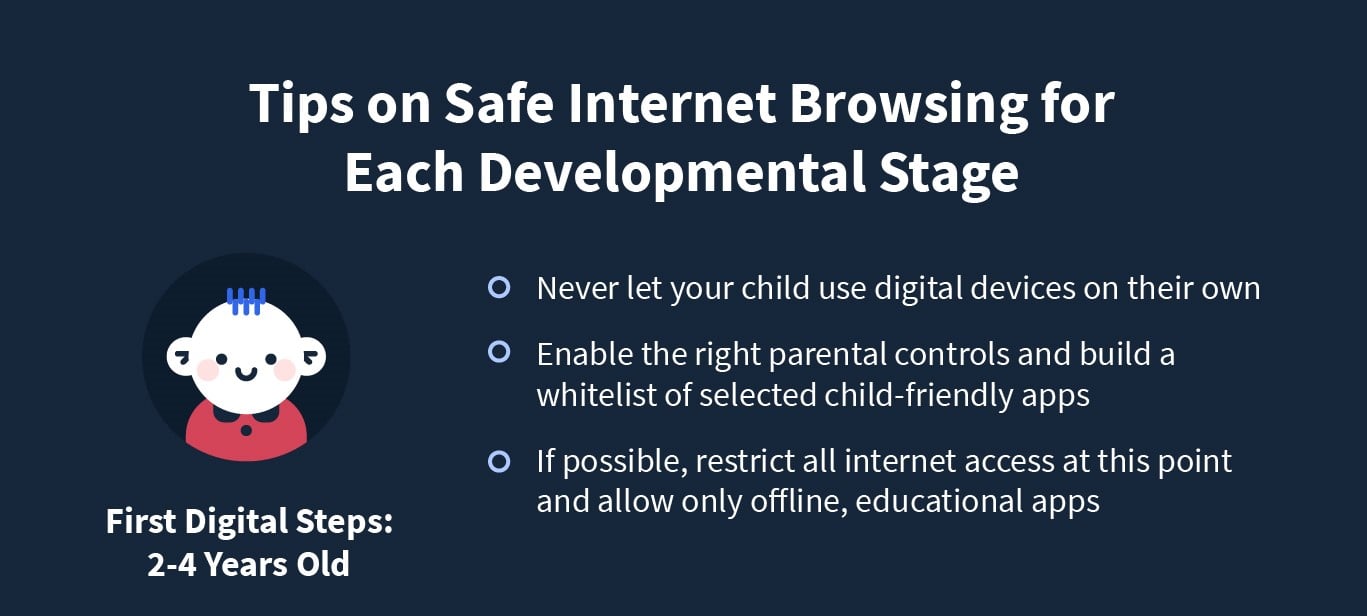 As your child begins his or her digital journey, it's crucial to never let them do it on their own. Whether they choose to watch videos on YouTube Kids or play games on your phone, parental supervision will ensure they don't accidentally click on inappropriate hyperlinks or ads. Children at such a young age are especially at risk of being frightened by various content displayed online. That's why it might be beneficial to restrict any access to the internet at this point. Instead, find various offline games and apps to teach your child how to use technology.
If you decide to allow your child access to the internet, always ensure the right parental controls are enabled. It's also a good idea to build a whitelist with chosen sites and apps your child can access while blocking anything else.
Learning the Basics: 5-8 Years Old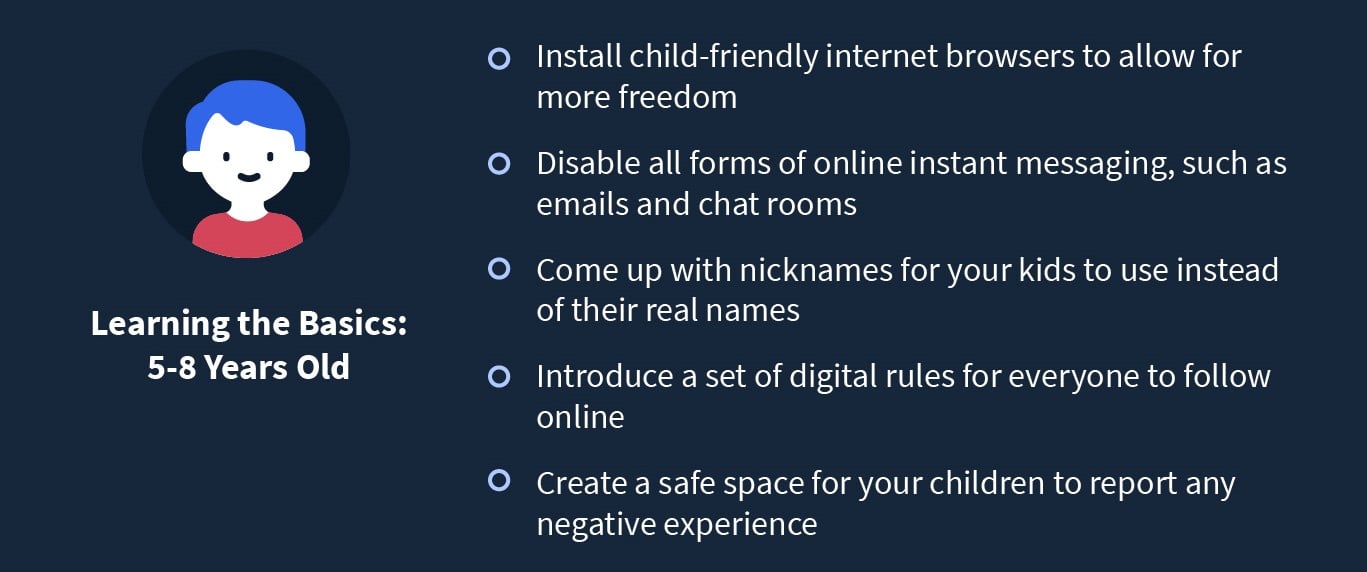 As your child grows, they'll want to begin more independent online explorations. While you still shouldn't leave them to browse on their own, you can allow for more freedom by installing child-friendly search engines, like Mobicip or The Children's Internet. Set up content restrictions on any streaming apps and devices your child uses to prevent dangerous media from being displayed. Disable instant messaging in any form, such as email, chat rooms, and others.
At some point, you should also introduce a set of digital rules for your child to follow when they're online. These should include not talking to strangers online or entering any personal details. Additionally, you could even come up with an online nickname for your kid to use. Finally, create a safe space for your children to tell you when they access anything inappropriate or frightening online.
Becoming More Independent: 9-12 years old

This is the time when your child will likely express his or her interest in joining social media apps. While many of those platforms won't allow anyone younger than 13 to make an account, tweens are very likely to enter a fake birthday so that they can keep up with their peers. This is also the time when your child might express the need for more privacy and won't want you to monitor their online activity. If that's the case, try to place digital devices such as family computers and tablets in communal areas so you can still keep an eye on what your child does online.
Place time limits on how long your child can use digital devices for. At this age, they're likely to need it for schoolwork and hobbies, but very often tweens stray from their responsibilities to interact with their friends online or play games. Setting time limits on certain apps or devices in general will make sure they aren't able to waste their time on something they shouldn't be doing.
Begin constructive conversations about what ethical online behavior is. Your child should understand that the online space isn't to be used for bullying or spreading gossip. The older they get, the more aware they should be about what could happen to them or others with just one click of a button.
The devices your child uses should still have parental controls in place. Protect them with various PIN codes if possible as your child may want to bypass the restrictions or turn them off themselves. Consider doing sporadic spot checks to view the browsing history and what apps have been used. You may want to install specific monitoring apps to stay up-to-date with what your child does online.
Walking Into Adulthood: 13-17 year olds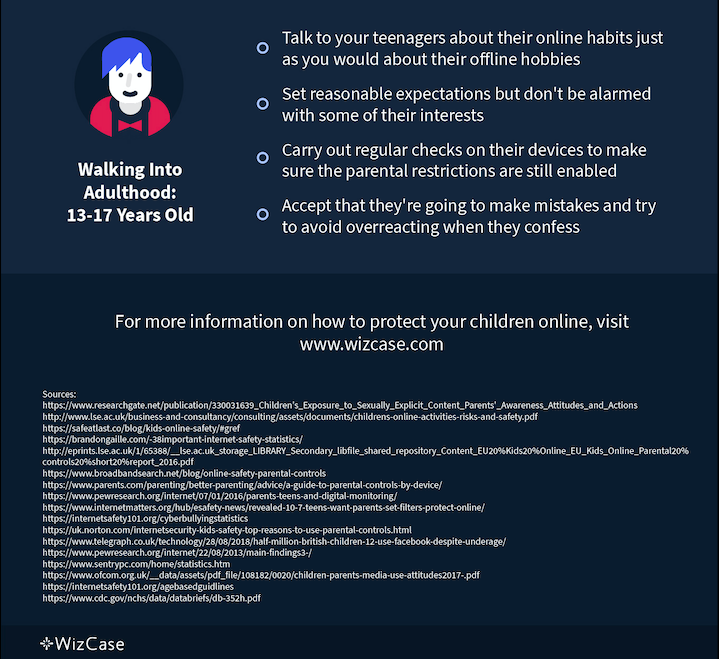 It's not a secret that teenagers are a lot more difficult to keep safe online. However, they are also more aware of what could happen online, whether that's from their own experiences or someone else's. It's important to talk to them about their online activity just as you would about their offline lives. Take interest in their hobbies and get to know their friends. If you had any internet rules before, try to reevaluate them together or create completely new ones.
Set reasonable expectations and don't be alarmed with their interests — as teens mature physically and emotionally, they'll be more interested in sexual exploration. This is a normal part of growing up. However, it doesn't mean you should allow free access to pornography sites. Always make sure you restrict access to overly explicit content through a set of available parental controls. You may need to carry out regular checks on their personal devices to make sure the restrictions haven't been turned off. If possible, protect the settings by enabling PIN access only.
Protect Your Children From the Dangers of the Internet Today
As children are becoming increasingly interested in digital devices from a very young age, it's crucial for parents to implement as many protective methods as possible. Parental controls are a great method of keeping your kids safe online, but they can never be fully effective. Without constructive and open conversations about how dangerous the internet can be, as well as active parenting, your children may feel overly restricted and rebel against the protective software. That's why you should never rely solely on parental controls to keep your young ones safe. Instead, consider implementing digital upbringing alongside your chosen restrictions to teach your children about both the benefits and dangers of the internet.